Join the NSMAA, CenterPoint Alumni, and Technology Alumni for tailgating prior to each home football game. This event is FREE for our alumni and guests, food and drinks included. Look for us at Party on the Plaza in front of the Alumni Center on Cullen Blvd. Each tailgate start 3 hours prior to kickoff. We hope to see you there! Go Coogs!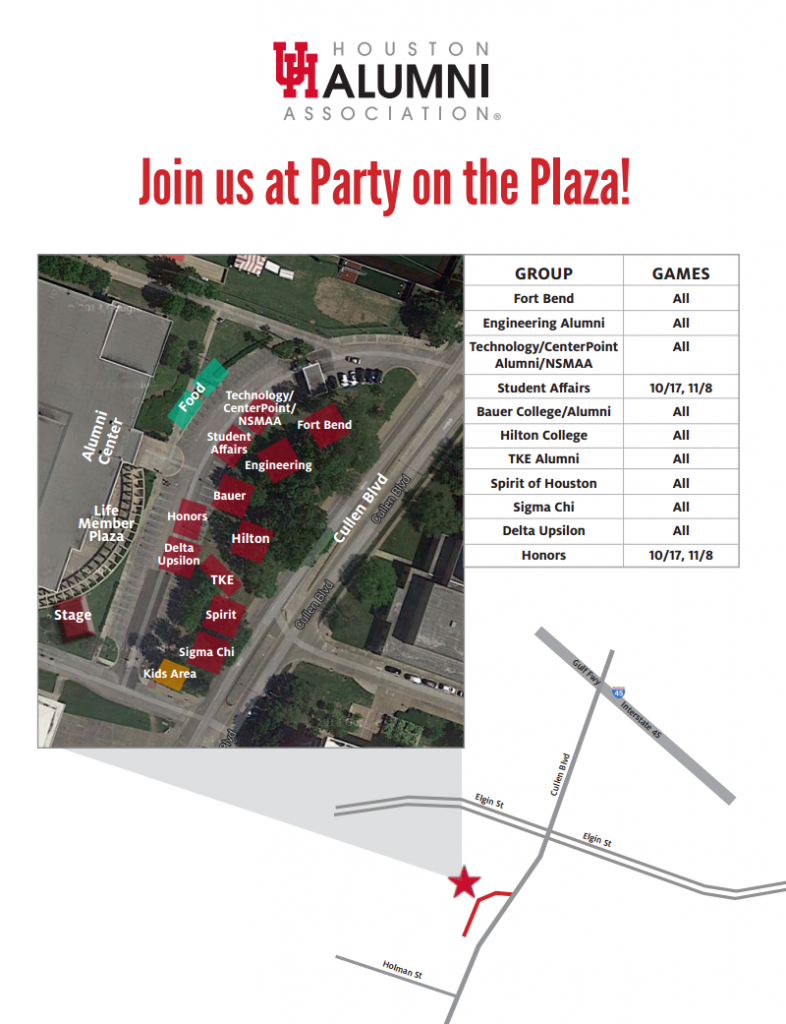 Please join the board for our first NSMAA meeting to contributes and ideas for our upcoming events
September 8th, 2014, 6:00 PM
UH Alumni Center, Life Member Room
Contact Ivy, ivy.d.nguyen@gmail.com for more information
Some of you likely know already, but James' wife, Kathy, wants to get the word out that James passed away yesterday after his long bout with cancer. James' obituary and funeral plans can be found at Crowder Funeral Home.
A visitation will be held from 6-8 PM Friday, August 22 at Crowder Funeral Home in Webster, Texas.
A funeral service will be at 10 AM Saturday, August 23 at the funeral home.
James will be laid to rest in the Forest Park East Cemetery. Please circulate this notice as appropriate to James' many other friends.
Please join us for our NSMAA Annual Meeting and get updates on the college of NSM and alumni events. Foods and Beverages will be provided. Please RSVP by August 6th:
Date & Time: August 11th, 2014 at 6:00 PM
Location: UH Alumni Center, Life Member Room
You can park in the parking lot in front of the building, just mention your purpose is to attend NSMAA Annual Meeting.
The Culture and Science signature event series hosted by the UH College of Natural Sciences and Mathematics provides a forum for discussion and exploration of how science applies to our cultural interests. These events offer our alumni and friends an opportunity to connect various components of culture to the intricacies of science.
In 2014, the events focus on the shared cultural interest of the arts, fine dining and sports. Each event provides an opportunity for discussion led by a scientific expert and aims to expose the mysteries of science and how it has challenged the conventions of cultural interests. We look forward to seeing you.
UH vs. Louisville
Friday, April 11, 2014
6:00 pm: Dinner
6:30 pm: The Science of Baseball
7:00 pm: Game
Cougar Field
Corner of Elgin and Cullen
Houston, TX 77004
Alumni, Faculty and Staff: $25 per person
Students and Children: $10 per person
Please join NSMAA in a Spring clean up at Japhet Creek. Tasks including picking up trash, clearing paths of vines and limbs, also removing non native plants.
Date: March 8th and April 12th
Time: 9:00 AM
Location: Japhet Creek 4600 Clinton Drive, Houston, TX 77020
What to bring: dress weather appropriate, sturdy shoes, bring a re-usable bottle of water. Tools, gloves and drinking water will be provided. There are plenty of parking space at site.
Read more here.
Dear Alumni,
You and a guest are invited to join the NSMAA Spring Mixer event as we take on UCF Men's Basketball team on February 22nd. We will gather in UHAA Suite #6. Food and drinks will be provided. Please RSVP your ticket(s) by February 17th through UHAA website. Your tickets will be held at Will Call on February 22nd.
We hope to see you at the game!!!
Place: Hoffeinz Pavilion, Suit #6
Date: February 22nd, 2014
Time: 1:00 PM
Homecoming Tailgate with Technology Alumni
Date: 10/19/2013
Time: 10AM till game time.
Location: Reliant Energy Stadium Parking lot, Blue Lot. Look for NSMAA and Technology banner.
Join NSMAA "ADOPT-A-SPOT" at Buffalo Bend Nature Park
Date: 11/9/2013
Time: 9:00 AM – 11:00 AM
Contact for info & RSVP: ivy.d.nguyen@gmail.com
Breakfast & Water will be provided if RSVP
SHOVELS, GLOVES and BOOTS will be provided if RSVP, but you are welcome to bring your own boots and gloves